On Tuesday August 28, Fidelity Investments promoted Abigail Johnson to run the company's main business functions – a move CNBC describes as "the strongest signal yet that she could be the next leader of the mutual fund powerhouse founded by her grandfather."
If CNBC is correct, Johnson will eventually take the reins from her father Edward C. Johnson III and transition the family owned business from second to third generation.  Considering the statistic that only 30% of family businesses succeed through the second generation, coupled with the fact that Fidelity is the second-largest U.S. mutual fund provider speaks volumes to the family's ability to balance their personal, professional and family lives for unprecedented success.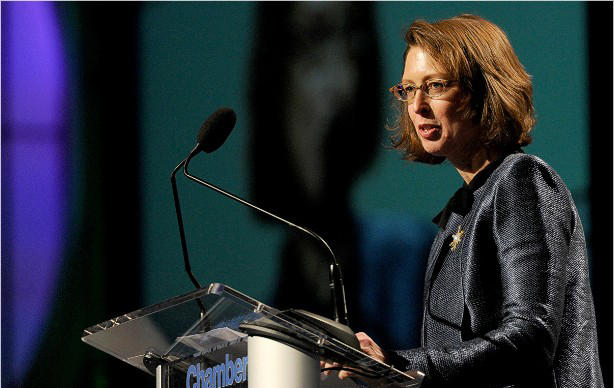 The greatest task facing Johnson in her new role will be the need for Fidelity to stay competitive and relevant in a changing financial landscape – as investors recover from the 2008 financial crash seeking low-cost and low-risk financial opportunities.  Additionally, Johnson will now manage Fidelity's major businesses – including asset management, retail & institutional brokerage as well as retirement and benefit services.  Upon joining her family's business in 1988, Johnson started her career as an analyst – later transitioning to an individual fund manager and eventually entering management in 2001 when she was named president of the fund division.  Her varied experience within the firm combined with a bottom-up knowledge of Fidelity's corporate organization should serve her well in her new role – eventually positioning her as a clear choice to lead the firm in the future.
Though her career at Fidelity began in 1988, Johnson recalls learning the family business in the 1970s "at the family dinner table."  At a recent Boston Chamber of Commerce event, Johnson stated "the telephone would ring and someone would leap to get it – the call would invariably be for my father."  Hearing her father address these calls during dinner gave her insight into her father's method of handling customer issues.
Johnson's experience illustrates the high reward possible for successful family enterprises.  By witnessing her father at a young age and learning from his expertise, Johnson is well positioned to succeed in her current role and eventually lead the firm.
Congratulations to Abigail Johnson on her new position and The Peer Alliance wishes her continued success within her business and most importantly, her family.
For further reading on this topic, please consult CNBC's article at:
http://www.cnbc.com/id/48822799