Boston, and Massachusetts to a larger extent are both economies that flourish on the success of family enterprise. The GDP in Massachusetts is 80% driven by family enterprises with over 30,000 family businesses in the state. It should come as no surprise then that Bill Belichick's son, Steve, has joined the "family business" of the New England Patriots coaching staff.
Steve Belichick will assume the role of coaching assistant. Named after his grandfather, also Steve Belichick, Bill's son Steve is the third generation of Belichick to coach football. His grandfather began his illustrious career as a fullback for the Detroit Lions and then coached the team at Navy for 33 years.
Bill Belichick has been coaching since 1975, beginning his head coaching career with the Cleveland Browns in 1991. Belichick was fired from the Browns in 1995 and did not coach again until 2000 when he joined the New England Patriots. Belichick is arguably one of the most successful coaches in NFL history, coaching the Patriots to five Super Bowl appearances, three Super Bowl wins and honored as the AP NFL Coach of the Year for 2003, 2007 and 2010.
Steve joins a long line of football success and it will be interesting to observe his role with the Patriots this season. Those of us in family enterprise are well aware of the pitfalls and challenges associated with intergenerational family business relationship, adding another element of context to what is shaping up to be an exciting year for New England. Stay tuned for more on this topic!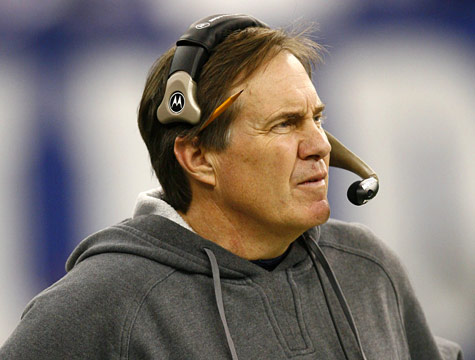 Belichick's signature cutoff sweatshirt and trademark scowl.
For further reading on this topic, consult Yahoo!Sports at the following link:
http://sports.yahoo.com/news/belichicks-son-joins-family-business-235545097–nfl.html