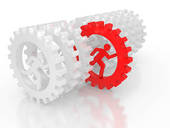 A friend recently sent us a video of a presentation of Harry Kraemer, Clinical Professor of Management and Strategy at the Kellogg School of Management at Northwestern.  His topic was "leadership" and he identified 3 characteristics and 4 principles of effective leaders.  We think might stimulate some reflection.
Characteristics:
 Leaders keep things simple.  They see the forest from the trees and whether presented by others with an issue or an opportunity, they ask for the options and then query, "What are we going to do?"
Leaders have common sense – which, of course, is not common at all.
Leaders start ASAP.  In other words, even before a young person has direct reports, he or she practices leadership competencies.  "Leadership," Kraemer says, "has nothing to do with 'control.'  It's about 'influencing' people.  To do this, you have to be able to relate to others."
Principles
Leaders are 'self-reflective.'  They take some time, maybe even 15 minutes a day, to think and ask questions of themselves about their values, about what matters, about their 'purpose.'  They find that answering these questions put things in perspective and leads to separating 'productivity' from 'activity.'
Leaders have a balanced perspective.  They seek to understand all sides of a story.
Leaders have 'true' self-confidence.  They are able to admit what they don't know.
Leaders possess genuine humility.  They recognize that what they have achieved is the result of working hard, having certain skill sets, luck, being in the right place at the right time, their team, for some- a spiritual dimension, and having people who keep them grounded so they can relate to others.
We repeatedly say that the most important attribute of leadership is "self-awareness."  Take a minute and re-read these 3 characteristics and 4 principles and ask yourself if you are going to do anything different today.