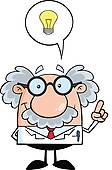 You've been told you're doing a good job.  So what is "good?"  Is it "fairly good," "pretty good," or "very good?"  Is just "good" adequate?  After all, it's not "bad," but it's also not "great."  "Good" is good.  It's not perfect and isn't expected to be.  It leaves room for error.
How about striving for "excellence?"
"Good" is inspirational.  It allows for taking risks, some of which might end in failure and others which could even end as "great."  Risk taking in a family enterprise requires the support and trust of other stakeholders.  If people are perceived as doing a "good" job, others are more likely to back them up and if that encourages more risk taking, there's a chance to turn some "good" into "great."
Mark Twain said:
Twenty years from now you will be more disappointed by the things that you didn't do than by the ones you did do, so throw off the bowlines, sail away from safe harbor, catch the trade winds in your sails.  Explore, Dream, Discover.